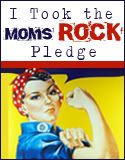 We are proud to be on board with Moms Rock The Economy.
Moms Rock the Economy is a concept designed by moms for moms. The basic concept is simple: Moms support mom-owned businesses online. As Twitter grows as the best medium moms have found to connect with each other, Moms Rock the Economy's mission is to support and promote Mom-Owned businesses throughout the internet.
Moms Rock the Economy is a collaboration between Leah Segedie and Kelly Loubet. Leah Segedie is the Chief Mom of Bookieboo and Mamavation, and Kelly Loubet is the Designer of Childhood Clothing and Moderator of Bookieboo. It was designed to give moms a place they could go to persue discount shopping WHILE supporting mom-owned businesses.
If you decide to take the pledge, please support other moms by tweeting out as well. Here is an example tweet:
"I took the Moms Rock Pledge! Are you a Mom that Rocks the Economy too? http://www.momsrocktheeconomy.com, #momsrock"
If you tweet, follow Natural Kidz on Twitter